I cant wait to watch this new twilight saga, The Breaking Dawn.i am so excited and i anticipated it so much, i wasn't able to read the book because my sister did not bring it when she had her vacation here, i really love the saga so much. and this up coming which is the breaking dawn, bella and edward will have a child, actually my sister jijie already told me about it.. but its different when its in the movie.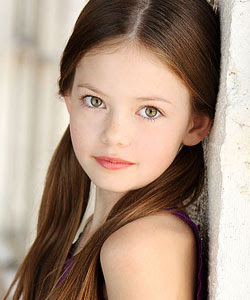 It's official: 9-year-old Mackenzie Foy will play Bella ( Kristen Stewart ) and Edward's (Robert Pattinson) daughter, Renesmee, in "Breaking Dawn," the series' author Stephenie Meyer confirmed on Facebook late Wednesday.
"Very excited about our new Renesmee, Mackenzie Foy," wrote Meyer. "She's an amazing young actress and I'm excited to work with her." [Related: Find out who will play the Denali clan.]
The move is set to hit theaters in two parts: the first on November 18, 2011, and the second on November 16, 2012.
Last month, it was announced that "Lost" star Maggie Grace signed on to play Irina — who blames the Cullen family for killing her lover — in the vampire saga.