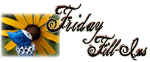 And…here we go!
1. We are on this earth because GOD CREATED US…PEACE!!!
2. HAVING AN experience OF HARDSHIP MAKE US STRONG TO FACE LIFE. APPLAUSE!!!:-)
3. One of the hardest things for me to learn IS TO PLAY THE GUITAR.:-(
4. ALL OF US ARE connected.:-p
5. I remember THE LOVE THAT YOU GAVE ME. BY: MADONNA tsup…
6. GOOD AND REAL FRIENDS is one of the best parts of my life.
7. And as for the weekend, tonight I'm looking forward to WATCH MY FAVORITE KOREAN MOVIE, tomorrow my plans include STILL WATCHING MY FAVORITE KOREAN MOVIE and Sunday, I want to ATTEND THE MASS/GO TO CHURCH!