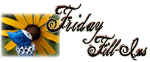 And…here we go!
1. Pardon me, for saying this, you look ugly in that dress .
2. In telling the obvious i got a good deal. :laugh:
3. I was surprised to find that I really like yellow Mellon than the usual water Mellon, im eating it right now.
4. Aside watching cartoons, eating is one of my favorite forms of entertainment.
5. Hi, my name is shahz and I'm God fearing and lovable.;-)
6. I love to go out on a summer afternoons. To have fun.
7. And as for the weekend, tonight I'm looking forward to checking my paypal, tomorrow my plans include try to visit Guadalupe for the holyweek and Sunday, I want to attend the mass!
GOD Bless!..