When my sister is still here planning on how to make her life progress and thinking if she will pursue applying for the PNP (Philippine National Police) she have other ways in making herself entertain and at the same time to be fit and to lost some weight. And I find-out about it, because of her cellphone, I wonder why she set her cellphone alarm twice a day and every time the phone alarms she will go in our room and every time she do that I'll just ignore her but one day i notice some drawing written in a bond paper paste in our closet wall and in our salas that's when i learn that she's stretching. She search this online for her daily exercise and advice me to join her but I'm to lousy to do stretching, I get sleepy while exercising :no: . hehe but I like watching her sweating her ass just to lose weight. :-D :-D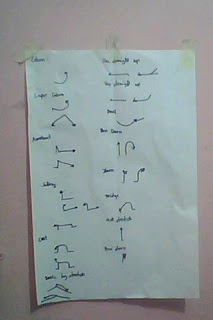 and behold her drawings,,, Lol I wanted to upload the original but I don't know how, she copy and paste the original in words, I did try to upload it but did not work so instead I took picture of her drawings.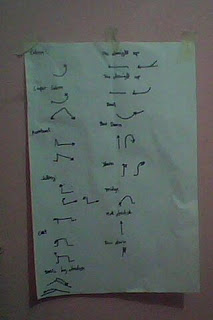 I don't know how she understand this stretching position but hey she understood, amazing girl. :dance:
hehehe!