Hello again my fellow movie addict and my entry for this week Tuesday Couch Potatoes meme is The Wedding Planner I've seen this movie many times and i love to watch it again and again. What can i say? I love Love Story and its perfect for this week's theme "It Complicated".
The story is about a wedding planner Jennifer Lopez who got attracted to Matthew McConaughey who turns out to be the groom of the bride in the biggest wedding event of her career ever, it's complicated right? will there be a happy ending? ;-) Never got tired of watching this movie. Love is always Complicated.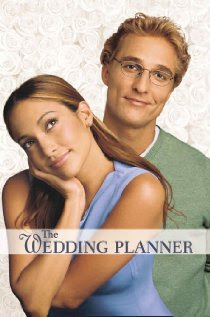 Short Summary:
Mary Fiore (Jennifer Lopez) is the wedding planner. She's ambitious, hard-working, extremely organized, and she knows exactly what to do and say to make any wedding a spectacular event. But, when Mary falls (literally) for a handsome doctor, (Matthew McConaughey), her busy yet uncomplicated life is turned upside down – he's the groom in the biggest wedding of her career! Will she help him walk down the aisle with his internet tycoon girlfriend (Bridgette Wilson-Sampras), or will Mary finally get to be the bride, herself? As this sweet romantic comedy proves, when it comes to love, you can never plan what's going to happen.
Enjoy Watching!!! :yes: :yes: :yes: