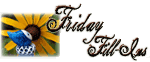 And…here we go!
1. I remember when I first heard that bad news when I was in Dubai (huhuhu can't tell what it is).
2. I can't find the perfect words to link showering down thoughts, my apology hehe .
3. Most humans act like animals do..
4. Some of my answers in this fill.ins Lol …sound familiar?
5. I was inspired by the movie Along came polly in dreaming that someday, somehow happy days will come.
6. ????who knows where!
7. And as for the weekend, tonight I'm looking forward to sleep before 12am, tomorrow my plans include cleaning my room, washing my cloths and go to the mall for window shopping Lol and Sunday, I want to attend the mass!