What a coincidence, I just watch a movie about fast cars last week, and I really love it especially Vin Diesel and The rock :inlove: . So my late entry movie for this weeks Tuesday Couch Potatoes, "Fast Cars" theme pick would be Fast and Furious 5 after watching this movie I'm planning on buying the 1-4 part of this movies so I can understand more about what really happened in the previous movies. I just can't get enough of them and the cars, hmmm lovely cars, enjoy watching.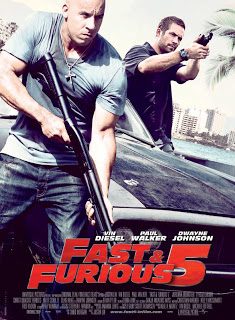 Fast Five (alternatively known as Fast & Furious 5[1] or Fast & Furious 5: Rio Heist[4]) is a 2011 action film written by Chris Morgan and directed by Justin Lin and the fifth installment in The Fast and the Furious franchise. The film stars Vin Diesel, Paul Walker, Jordana Brewster and Dwayne Johnson and was first released in Australia on April 20, 2011 followed by a United States release on April 29, 2011. Fast Five follows Brian O'Conner (Walker), Dom Toretto (Diesel) and Mia Toretto (Brewster) as they plan a heist to steal $100 million from corrupt businessman Hernan Reyes (Joaquim de Almeida) while being pursued for arrest by U.S. DSS agent Luke Hobbs (Johnson).
Plot:
Former FBI agent Brian O'Conner (Paul Walker) leads an assault on a prison transport bus carrying his friend Dominic "Dom" Toretto (Vin Diesel), freeing him before the pair split up, agreeing to meet in Rio de Janeiro. While awaiting Dom's arrival, Mia Toretto (Jordana Brewster), Dom's sister, and Brian undertake a job for their friend Vince (Matt Schulze) to steal three cars from a train. The job goes awry when it is discovered that the train is carrying DEA agents and the cars are seized property. Dom arrives to help Brian and Mia as they realize that they need to steal only one specific car, the Ford GT40. With Mia's help, they steal the car and escape, but Brian and Dom are captured by corrupt businessman Hernan Reyes (Joaquim de Almeida), owner of the car. A shootout ensues and the pair again escapes with the car, taking it to their safehouse to discover what Reyes was hiding in it. Vince arrives and is revealed to be working for Reyes after removing a computer chip from the car, shown to contain information on all of Reyes' illicit business activities including laundering over $100 million.