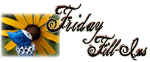 My late entry again,.. my apology!!.. :-((
And…here we go!
1. Why do I love eating pizza and spaghetti?hmmm.
2. Maybe because I want to stay in a cold place like Greenwich?Hmmm.
3. By far the most important for me right now is eating pizza, I'm hungry at this moment and all I could think is pizza!pizza!.
4. Pizza in American. I think is a lot bigger and meatier, what do you think? LOL
5. But when can i taste it? :devil: .
6. I want pizza for the longest time and hundred times.
7. And as for the weekend, tonight I'm looking forward to look for money to buy pizza, tomorrow my plans include asking my friend to buy me pizza and Sunday, I want to attend the mass and hopefully eat some pizza and spag after, hehehehe!
Happy weekend pizza everyone!!..