My mother went to a wedding last week, one of her handmaid for Christ friend got married and she is invested and that time we run out of money even now we still don't have lots of it, but she still finds a gift for her. And since we don't have money she told me to buy wedding wrapper and I thought she handed me 50 pesos, but I was shocked when it's only 20pesos, good thing there's cheaper wedding wrapper, but minus the ribbon and you can't call it a gift unless you put a ribbon on it so she looked for an old ribbon and find ways that it will still look good. Money is really tight this month. hehehe
And mission accomplish, we have ribbon and wedding wrapper, it even match the wedding motif.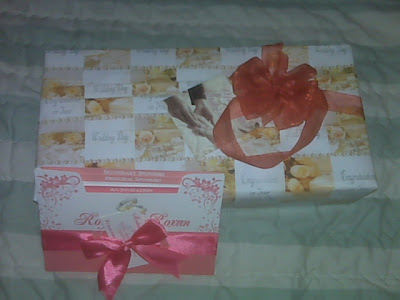 And here is the finish product, who says we can't have a nice, presentable wedding gift using not too expensive materials.