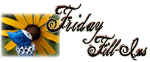 Late again, my apology again…here we go!
1. As I neared the to the mall, I'm wishing that somebody will send me money this Christmas. The mall's having SALE you know! :-).
2. My 1st response to question # 1 is what I'm reading right now. It's passable whehehehe.
3. I didn't start out this way, but I think you'll never know the outcome, right?. Relating to my past. :)
4. I'm a nice person to tell the truth.
5. The best way to a mans heart is through his stomach. Why! oh why! so I need to study cooking first before I get that man?
6. This is the reason I am , I don't know the reasons!
7. And as for the weekend, tonight I'm looking forward to I sleep early yesterday, tomorrow my plans include Sleeping again and Sunday, I want to watch the power-lifting contest at Capitol grounds!
Have a Fun weekend guys and gals….