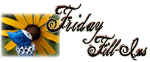 I know I missed a few entry in Friday Fill Ins meme because I was in gensan then I got busy with this and that but hopefully I will never misses this meme again. Anyway my entry for this week…here we go!
1. One of my favorite things about December is the Christmas decorations all over the place and warm feeling hehe.
2. We don't have new Christmas ornament(s)! :roll:
3. This is what I'm hoping for today/tonight: that PayPal money is ready to be withdrawn hehehehe .
4. What's with the noise? neighbors. LOL
5. Ooh, a good and yummy dinner once I withdraw that money, whahehehe can't wait.
6. Yesterday, I just keep our phone ringing! because I know it's from PLDT and they want me to pay ahead of schedule again. Yay, hiding from them eh!
7. And as for the weekend, tonight I'm looking forward to going to divisoria for massage my back hurts badly, tomorrow my plans include I'm still thinking about it hehe and Sunday, I want to I'm still thinking about it.!
Christmas is very near 23 days to go go go…. Happy weekend guys..