This coming may will be my younger sister's 1st year anniversary working in other country. She had a two year contract and was very much kicking her butt in Kuwait. This is some of her photos while enjoying her day-off. She seldom take photos of her self with the beautiful places by herself because she can't go out by herself not because she is affair but just to be safe. By the way advance Happy Birthday sis, she will be celebrating her …. birthday this coming march 22. We love your and miss you tsup! tsup! mwah! mwah!…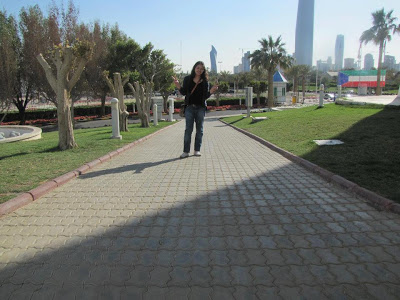 This is her usual get up when going out and even having a date, hehehe.. One of her day-off s exploring moment and off to go to Kuwait Tower to explore beautiful scenery and landscape. ;-)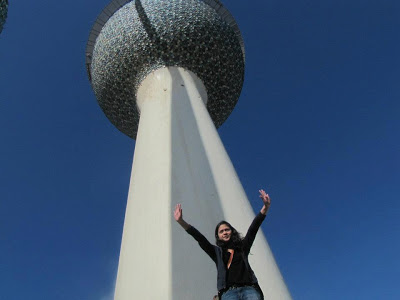 The Kuwait Tower, minus the other tower beside it, I think she wants to fly. what sha thinks? She like taking picture but this time she didn't have her own camera, so she just use her cellphone most of the time but when she's with her friends free photos and this is one of those lucky times.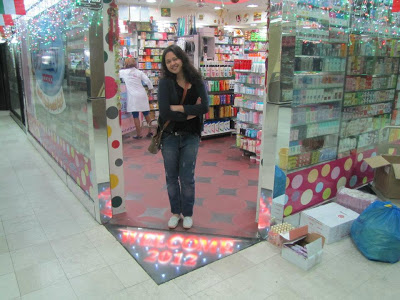 Inside a Beauty store I guess, hehehe. She like bringing lotion and other kikay item in her bag, most of the ladies bring lady's purse but you can never force her to bring one when going out. She like bags as in big bags or sling bags or big purse. She not into fashion but she like the function of that big bags.
Search on Wikipedia about the Kuwait Tower:
The Kuwait Towers are three towers of reinforced concrete in Kuwait City. The main tower is 187 metres high and serves as a restaurant and water tower. It also has a Viewing Sphere which rises to 123 metres above sea level and completes a full turn every 30 minutes. The second tower is 145.8 metres high and serves as a water tower. The third tower houses equipment to control the flow of electricity and illuminates the two larger towers. The towers hold 4,500 cubic metres of water.
The towers were designed by Sune Lindström and Malene Björn and built by Energoprojekt, a company from Belgrade, Yugoslavia, and Vatrostalna, a company from Zenica, Bosnia and Herzegovina. . They opened to the public in March 1979. In 1991, after the liberation of Kuwait City during the First Gulf War, the towers were surveyed for structural damage. Substantial shell and bullet damage to the towers' exteriors was found. Interior damage was mainly to electrical gear, mostly lift equipment. Some of the large triangular glazed panels were also damaged by shell fire.