Last month, the real owner of the dog rottweiler conan decided to transfer the big guy to his house because it is more spacious and it perfect for a big dog like "conan the rottweiler" to run and play chase with whatever insect or bugs he wast to play with. I love that dog but I think he is too big also and our house is too small for a big dog like him to play chase with my little dogs. But I guess I was wrong, because misha The Mixed breed is small but the attitude is more like the big dog conan. She still has this attitude to eat her poop and no matter how hard I try to teach her not to eat her poop she always does it.
I try watching her after she eat so she wont have time to play or eat her poop, try the hot sauce and the last thing reprimand her but all those are wasted. She still do her thing and even worse, destroy stuff she come contact with, like stick broom, comb and plants. And I can't just trow or transfer all the things that is in our terrace because our space is already overload with things that my mother don't want to dispose.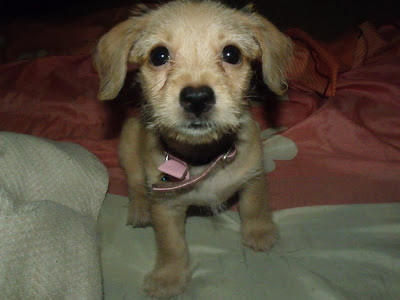 This is misha when she was 3 months old, not so big but I like it. She can always sleep beside me and play small stuff or stuff toys.
I just wish they never grow up, that they're still the little as in very little puppy I use to force to sleep in the bed and the little puppy who can only chew small things like stuff toys and that. It is more manageable. I guess I need to research more on "How to train your pets" article to do the pets guardian stuff for my cute and cuddly pets and my sis.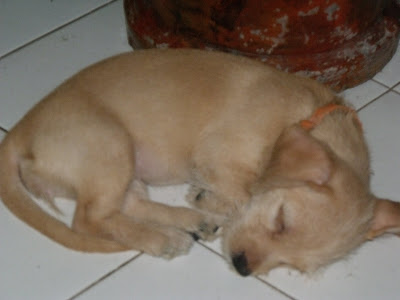 And this is misha now, already 6months old and very much and eager to destroy this around the house. The latest was our stick broom and the floor covering. I need to save money to buy new floor covering before my parents decided to visit the house anytime soon.
Keeping up with the pets are really hard. They can take your worries out most of the time but when they bored and want to destroy valuable things in the house they can really very much to so especially if the loving and understanding owner (that's Me) is not around to watch them.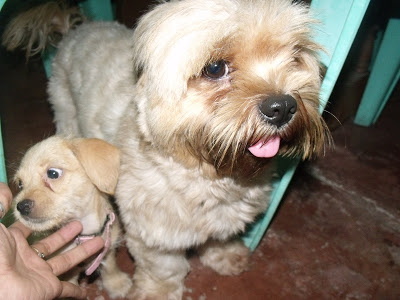 Prince and misha during christmas last year. Thank god prince is a bit old and behave compare to the other. hehehe