The other day I was in the mall looking for something interesting to buy for myself, and then, I notice that people especially kids are busy taking their picture with santa near the malls Christmas tree. And when I am about to join their picture taking with santa then I found out that I forgot to bring my camera. That was disappointing because that would be my chance to have a picture with santa claus, now, I have to come back tomorrow because I really want to take picture of santa. And this is what I saw when I arrived at the place where santa sets and smile….. santa is missing..
Only the Christmas tree and santa's chair is there, hmmm maybe santa is busy strolling in the mall! what do you think??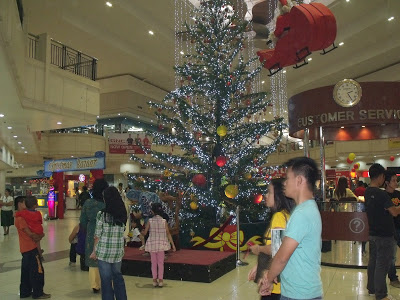 And since santa is not around might as well take a photo of those people who seats on santa's chair. Who thinks that we can't take a photos of us seating in santa's chair, hehehe.