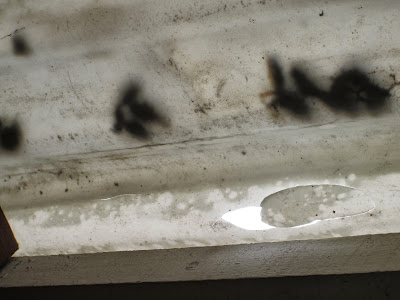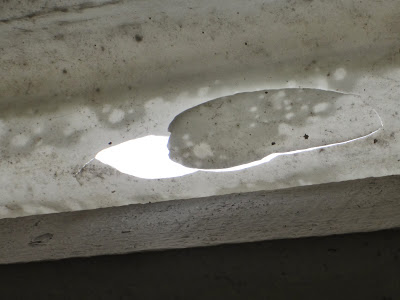 My parents choose this kind of roof because it will give a little light to our house. Surrounded with neighbors with high roof is very tiring, so we have to make same adjustment so that our house can feel the king sun every time it arises, LOL.
However, no matter how we wanted the sun to shine inside our house, I have to replace it. The problem with having low roof is that some of the neighbors will make your roof a ladder (somewhat) in order for them to fix their own roof in an easy way. Aside from that, the stray cats are always on our roof chasing each other most especially when it's their breeding season (another LOL), most of the time I get startled (with my pets starts to bark) when they chase each other, and mind you, they don't pick a time. They just chase each other every time (night or day) they smell (I think) a female cat in heat or something.
I just notice the hole on our roof few days ago. I already told my parent about it. I want to fix it using my own money, but I don't have the money for it, so I have to tell them. Unfortunately, both my parents and I don't have the resources to fix the roof. I have to endure it especially during rainy days. I would just put a bucket below it for the leak, and every time it rains, heavy or not, it literary raining also inside.
Thankfully, my sister who live abroad give us the budget, and we are very thankful about it considering she just a stay at home mom who ear from blogging. All I have to do is find a very good carpenter and very durable and good quality roof. I have been having roof problem ever-since my parents move to other city and that was a year ago. How time flies and fixing the house is getting harder and harder.