One of my most like movie and also my very late entry for this Tuesday Couch Potatoes meme: The Devil Wears Prada
Andrea Sachs(Ann Hathaway) still chose her own happiness after all the hardship she's been true working as an assistance to the ruthless and cynical Miranda Priestly(Meryl Streep). Enjoy watching because i did really enjoy watching this movie… Fashion Week!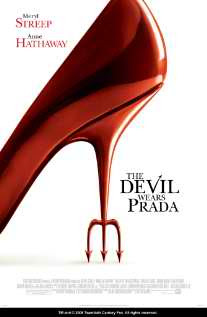 Storyline
In New York, the simple and naive just-graduated in journalism Andrea Sachs is hired to work as the second assistant of the powerful and sophisticated Miranda Priestly, the ruthless and merciless executive of the Runway fashion magazine. Andrea dreams to become a journalist and faces the opportunity as a temporary professional challenge. The first assistant Emily advises Andrea about the behavior and preferences of their cruel boss, and the stylist Nigel helps Andrea to dress more adequately for the environment. Andrea changes her attitude and behavior, affecting her private life and the relationship with her boyfriend Nate, her family and friends. In the end, Andrea learns that life is made of choices.